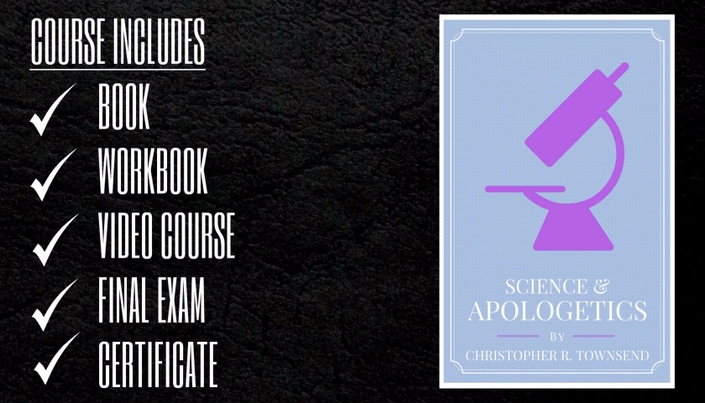 Science and Apologetics
Clearing the air on "Science"
Have you ever struggled to communicate why you believe what you believe, especially to someone with questions or an even unbeliever? This class will equip you with incredible tools for communicating your faith to difficult audiences. You will leave this class understanding and communicating why you believe what you believe like never before!
Science & Apologetics
Have you ever heard someone say, "I don't believe in God. I believe in science?" This statement is very revealing. In this course you will:
Examine the definition of science
Expose hidden agendas that manipulate words to make the idea of God look unscientific
Answer the question, "Is Atheism a religion?"
TESTIMONIALS
"I took this course. IT CHANGED MY LIFE. If you want to be more effective in communicating why you believe what you believe then this IS for you."

"MAKE TIME TO TAKE THIS COURSE! We could all use this. Chris Townsend was one of my professors at Christ For The Nations. I can vouch for the credibility and depth of his curriculum."

"This is an outstanding book (part of the online courses). Anyone who wants to grow in their faith and understanding of the Scriptures needs to read this book. Very compelling and very well written. I WOULD RECOMMEND THIS TO ANYBODY IN THE CHURCH, AND THOSE WHO ARE NOT IN THE CHURCH."

"My Muslim friend has been taking your online class and absolutely loves it!"

"What seemed to be overwhelming, Chris broke down and made easy to understand. I now feel more confident and equipped to talk to an atheist or even fellow believers."
"Taking apologetics prepared me to face a real world with tough questions. It opened my eyes to the confusion that was being taught to my generation and educated me to bring clarity and hope to my generation."
"Become equipped to 'give an answer to everyone who asks you to give the reason for the hope that you have!!' - 1 Peter 3:15"

Your Instructor
Course Curriculum
LESSONS
Available in days
days after you enroll
TESTING
Available in days
days after you enroll